This is part of a series of posts from my journal and recollections leading up to and during SXSW in March 2008 when I attended with my film, Not Your Typical Bigfoot Movie.  –Jay Delaney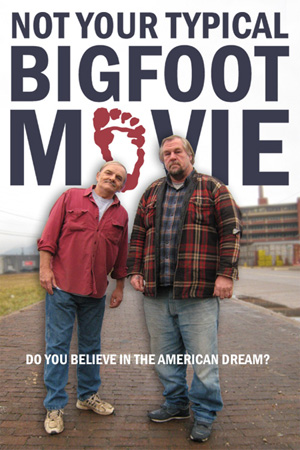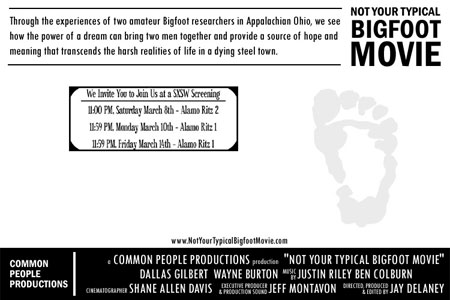 Mar. 1, 2008: So after stretching every dollar as far as possible on producing the film and covering festival submission fees, I had to come up with money to cover the cost of promotional materials.  I wanted to be sure to get the biggest bang for the buck, so I researched and researched to be smart about promo materials.  Coming up with the right mix was challenging, but here's what we used:
Postcards
Mini 8.5 x 11 Posters
Business Cards
Press Kit
Website
Trailer
Each piece requires a tremendous amount of thought and design work.  I've done much of the design work myself, but I'm lucky to have a couple of graphic designers from Ohio who offered to help improve my designs – Candis Hecking and Damien Bowman.  They've taken my initial design and really made it cool.  I'm trying to integrate the same look throughout every piece.  I also have no idea of what quantity to get or how many I'll likely go through in Austin.
Follow-up: Looking back on it all, the two most important items on this list – BY FAR – are the website and the trailer.  The fact that we were playing SXSW helped drive lots of people to both the website and the trailer, but each had to convince them that it was a film worth seeing.  Of the print materials, the postcards were by far the most effective because they're so portable.  While I'm glad we had the posters, we got a lot less promotional value from them than the postcards.